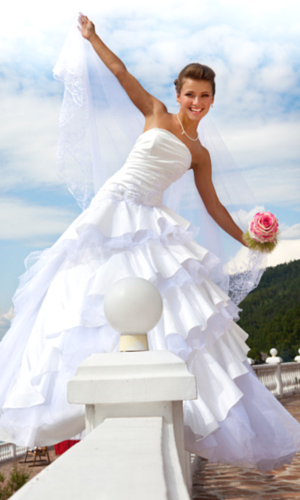 How Much Fun Did Your Gown Have at Your Wedding?
We are experts in Wedding Gown Cleaning & Preservation.  All wedding dresses are cleaned in special equipment on site at Steamers Fine Cleaners in Yucaipa, CA. 
We NEVER send out gowns to be cleaned.
As proud members of the Association of Wedding Gown Specialists we have been trained in the proper methods of cleaning and preserving wedding gowns.
Many steps go into Cleaning and Preserving your Gown
Inspection – This is key to good gown cleaning.  We inspect for loose beads and trim.  We also check for open seams and tears.  We often find torn bustle ties.  We will identify and discuss our findings with you, so you are comfortable with what we are going to do with your precious gown.
Hand Cleaning – We carefully hand treat, and clean every gown with special solutions giving protection to trims, lace and embroidery.  Every gown is then rinsed individually in pure environmentally safe solutions.
Finishing – After cleaning we steam and press every gown so it is just like before your wedding.
Final Inspection and Preservation – We complete a detailed final inspection and pack your your gown in a 100% acid free museum quality preservation chest.
Our Guarantee – As members of the Association of Wedding Gown Specialists, we are held to the highest standards and your gown is guaranteed not only by us, but by over 300 wedding gown specialists located in the US, Canada, and worldwide.